4th annual Silent Film Fest in Half Moon Bay
The Coastside Film Society will screen "Sunrise" - a silent film masterpiece with live grand piano accompaniment on Friday Feb 22nd.
1927 was the year the silent film achieved artistic perfection and then died. In that year, F.W. Murnau's tense psychological drama Sunrise was released. Critics were quick to acclaim that Sunrise was the finest film ever made. It won three academy awards including the coveted best and most artistic picture of the year. The public could care less. You see, 1927 was also the year in which the first talkies arrived. Talkies are what people clamored to see and Sunrise was a box office flop. As a result few people alive today have heard of it. Thats a shame because this is a film that still sits on many critics top ten lists of the best movies of all times.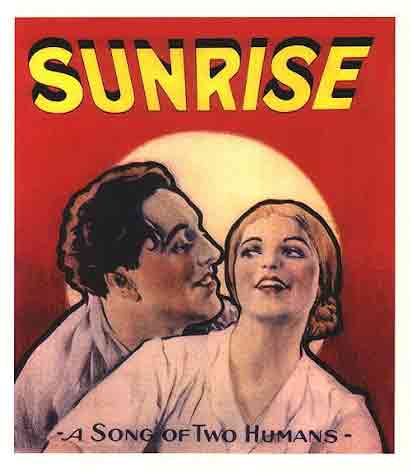 Friday, Feb. 22, 7:30 p.m.
Community United Methodist Sanctuary
777 Miramontes St., Half Moon Bay (corner of Johnston Street)
Suggested Donation $8 adults, $3 for children and students
This is the fourth year that the Coastside Film Society has staged a silent film night featuring live musical accompaniment by Montara's own Shauna Pickett-Gordon on the grand piano. If you have not seen Shauna perform at a silent film night before, check out this video that features Shauna's work.
More info at: www.HMBFilm.org
Reviewer Landon Palmer calls Sunrise one of the greatest films of all time: "Here you have it all: . A romantic comedy worthy of a wise-cracking Cary Grant and Katherine Hepburn. A horror film whose use of shadows is worthy of any Universal monster movie. And an adventure/thriller worthy of Bogart. (The film) goes to so many places, accomplishes so much emotionally, earns all of it, and does so through a visionary style that manages to suck the audience in. The extended trot through the city is one of the most unapologetically whimsical sequences in cinema, and I love it. (And lets not forget the hilarious ) drunken pig as a metaphor for the political treaties that led to WWI." FilmSchoolRejects.com.
"Modern audiences will still be blown away by the boldness of the film's visual experimentation. The more you consider Sunrise the deeper it becomes." Roger Ebert, Chicago Sun-Times
"The individual passages are so lyrically tactile, so swoony, they transform spectatorship into something else. They defined what was/is cinematic from that point on." Michael Atkinson , Village Voice
More info at: www.HMBFilm.org
---
There's no Forum topic for this story
Start or join the discussion on Coastsider Forum. Our forum is in beta right now, so drop us a line if you have questions, feedback, or bugs.