Will Durst presents new show at Coastal Rep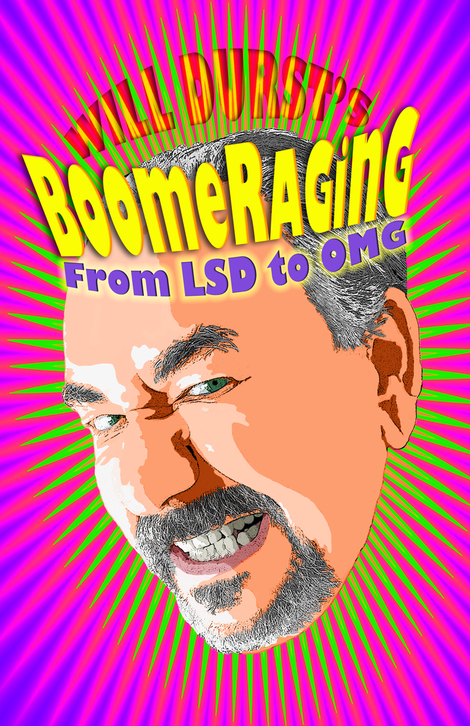 Will Durst's new show BoomeRaging: From LSD to OMG will open at the Coastal Repertory Theatre in Half Moon Bay, July 5 and 6.
Durst's new show is an uproarious tribute to the joys, achievements, frustrations, and looming doom of the Baby Boom Generation. In this rollicking 85- minute heartfelt monologue, Durst encourages his chronologically gifted brethren to refuse to grow old in the face of gravity no matter how many times they forget the answer to their password retrieval security question. It's what happens when acid flashbacks meet Dementia. A celebration of the maturation of the Boomer Nation: culminating in an extra, added special treat- the Meaning of Life.
BoomeRaging: From LSD to OMG is Durst's first one-man show since Elected to Laugh ran for 41 consecutive weeks in San Francisco in 2012. Acknowledged by peers and press alike as one of the country's premier political satirists, Will Durst has developed an incomparable career, weaving together columns, books, radio and television commentaries, acting, voice-overs and stand-up into a riotous patchwork of outraged and outrageous common sense. The New York Times calls him, "quite possibly the best political comedian working in the country today." Author of 3 books, Durst has told jokes in 14 countries, racked up 800+ television appearances, released 5 CDs and despite blistering reproach, continues to squeeze ketchup on his hot dog.
Ably assisted by his genial wit and trusty overhead projector, Durst explores the role of Boomers in today's youth obsessed society. He shamelessly strokes the egos and pats the hands of the Flower Generation through segments entitled Racing From The Shadow Of A Mushroom Cloud, The Blinking VCR, Still Doing Drugs-Only Now There's a Co- Pay, The Bright Sides of Extreme Adulthood, and Hope I Die Before I… Oops, Too Late.
BoomeRaging: From LSD to OMG is a unique theatrical event with a dash of poetry all delivered with stand-up timing.
Tickets can be purchased for $30 from the Coastal Repertory Theatre.
---