Coastside comedy improv is back, Friday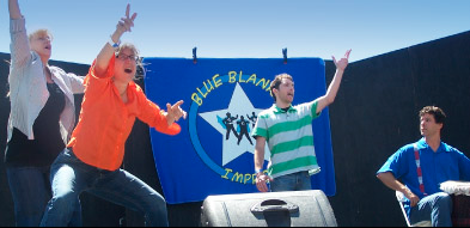 OLYMPIC RETURN
Welcome the Blue Blanket Improvisers back from Sochi!
Blue Blanket Improv is back in the gym, and this time, it's not just a yoga studio – They are FIT
You may have noticed that Blue Blanket Improv has been strangely silent for the last several months. Wonder why all their passports have new Russian visas? These versatile mental gymnasts are just returned from the northern climes and bad TV coverage. You'll hardly recognize them: Subjected to intense training, BBI has been torn down to the ground, and built back up: quicker, stronger, more focused, and funnier. See them in their Olympic form and welcome new players to the squad.
Come see them in action on Saturday, March 29th, starting at 7PM (Doors open at 6:30 PM). Your challenges will showcase their skills: Verbal wit? Check! Narrative structure? Check! Characters, emotions, space objects, and "Yes, and"? Check, check, check, and check! Give us your best shot: lob in a starting location, follow it up with a zinger of a genre, ask for an improbable ending line, and top it all off with an emotional roller coaster! Remember, the Russian judges didn't offer any do-overs, and neither should you! These scrappy comedians are at the top of their game. Are the returning champions a shoo-in to represent the USA in the 2018 Winter Improv Olympics? Come see them strut their stuff and decide for yourself!
WHAT: Blue Blanket Improv performs short-form improvisational comedy. Audience suggestions are incorporated into amusing scenes made up on the spot.
WHERE: FIT Studio, 50 N Cabrillo Highway (Route 1), Half Moon Bay, CA 94019 - No food or drink available in the venue but can be puchased and consumed right next door!
WHEN: Friday, March 29th, 2014, doors open at 6:30pm, show runs 7:00 – 9:00 PM
TICKETS: $10 for adults, $5 for children 13 and under; Buy 3 admissions, the 4th is free!
Tickets available at the door or in advance from our website: http://www.blueblanketimprov.com/
All proceeds benefit the high school drama program and college scholarship
---