Don't count on El Niño in 2014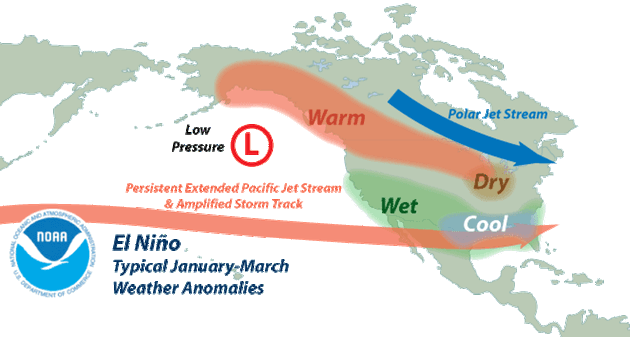 Specuation is increasing that there will be an El Niño later this year, bringing with it the wet fall and winter weather we've been missing.
However, NOAA's consensus forecast, based on an analysis of 18 individual climate models, is that there's 50/50 chance of an El Niño event in the fall of 2014. The good news is that this is a higher forecast probability of an El Niño than we had in 2011, 2012, or 2013. The bad news is that it's something short of "likely".
The NWS Climate Prediction Center leads its discussion of the El Niño–Southern Oscillation' (ENSO):
ENSO-neutral is expected to continue through the Northern Hemisphere spring 2014, with about a 50% chance of El Niño developing during the summer or fall.
But some in the media are overly optimistic. The San Francisco Chronicle ran an AP story with the headline "Here comes El Niño; good news for US weather woes".
WASHINGTON (AP) — Relief may be on the way for a weather-weary United States with the predicted warming of the central Pacific Ocean brewing this year that will likely change weather worldwide. But it won't be for the better everywhere. ...

Mike Halpert, acting director of NOAA's Climate Prediction Center, says the El Niño warming should develop by this summer, but that there are no guarantees. Although early signs are appearing already a few hundred feet below the ocean surface, meteorologists say an El Niño started to brew in 2012 and then shut down suddenly and unexpectedly. ...

Kevin Trenberth, a senior scientist at the National Center for Atmospheric Research, who wasn't part of NOAA's forecast, agreed that an El Niño is brewing.
Maybe. Maybe not.
Dr. Kim Cobb, a climate scientist at the Georgia Institute of Technology, is already alerting fellow scientists and disaster preparedness agencies that 2014 could be a big year for El Niño and they should be ready for it. But in email to Coastsider, she agreed that those of us who don't have to prepare for the worst should be more cautious:
Operating in this uncertainty means different actions by different stakeholders: scientists who do not want to miss this chance at getting out there should get ready! However, CA water resource managers will want to make decisions based on the most conservative route - that an El Nino will not materialize to help CA's water woes out this next winter.
---