Film Society screens 3 Silent Chaplin comedies with live music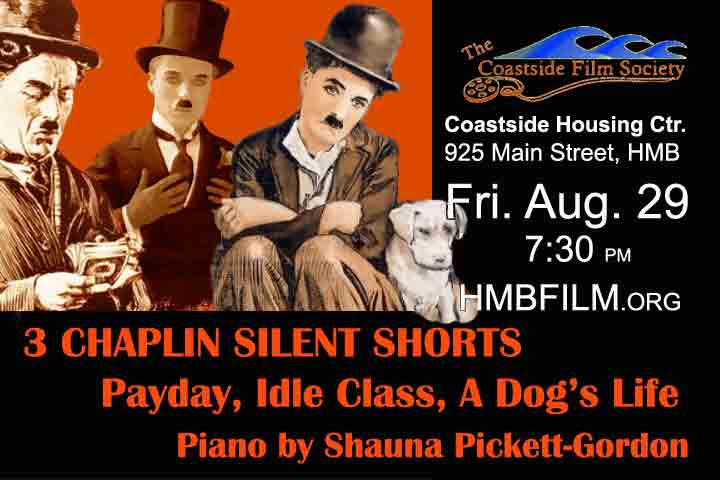 Fri. Aug. 29, 7:30 pm

Coastside Senior Housing/Senior Coastsiders

925 Main Street, Half Moon Bay

$8.00 adults, $4.00 children
Time for another Silent Film Festival sponsored by the Coastside Film Society. This year's program features the comedic genius of the great Charlie Chaplin with live piano accompaniment by Shauna Pickett-Gordon.

These are all madcap films that the whole family will love, especially because we screen them with live musical accompaniment. Once again we have asked Montara's own Shauna Pickett-Gordon to write a score for our silent film night & to play live during our screening.


The program includes:
A Dogs Life (1918).

Chaplin's Little Tramp shambles around the cold, cruel world with his partner Scraps the dog. They pull off brilliantly coordinated food heists and befriend a lonely and lovely dance hostess. But things still look pretty desperate until Scraps discovers the hidden loot from a bank heist. Of course the crooks want it back.


The Idle Class (1921)

The tramp sneaks into an upper class resort where he is mistaken for an inebriated millionaire. The millionaire's neglected and lonely wife is thrilled at her husband's transformation and spirited hi-jinx ensue. The tramp remains the tramp, but the opulent interiors and costumes contrast richly with the grunginess of the first film.


Pay Day (1922)

Here Chaplin plays a construction worker who loves his job but is especially looking forward to getting paid at the end of the day and enjoying a night out with his pals. His penny pinching wife has other ideas. This gleeful romp showcases Chaplin in an extended choreography of expert brick-catching and an overactive elevator that catches everybody unaware. Arriving home at daybreak, Chaplin is getting ready for bed when the alarm clock rings, waking his wife. Another day at work begins.


For more information and directions to the new venue see: www.HMBFilm.org
Directions: This venue is new and Google and GPS systems may not be able to find it. Check the Film Society website for better directions.
---