Films of Horror and Humor on Fri. Aug 31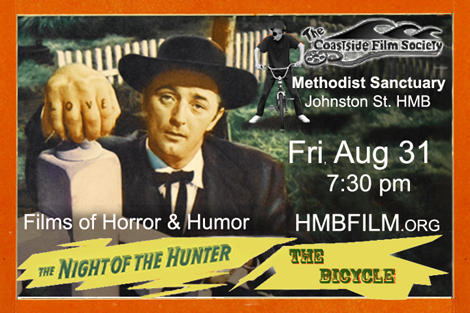 The films that will be screened during this month's Friday Film Night were brought to the Film Society by a young Bay Area singer and film maker named Johnny Villar. Johnny wanted Film Night to feature "The Night of the Hunter" - a classic from 1955 that was so ahead of its time that it never became as famous as it should be. What a great suggestion the film scholars at the Film Society agreed!. Two conditions were set. 1.) Johnny had to agree to act as the master of ceremonies for the night. 2.) The night would start off with a screening of one of Johnny's own dark and funny silent short films.
(short) The Bicycle (5 mins)
In the peaceful tranquility of Foster City, CA, a dastardly thief steals a bicycle and a hilarious chase ensues. This silent short by Bay Area artist Johnny Villar won the 2011 College of San Mateo Film Festival. It features a unique suburban visual style and frightfully funny over-the-top performances. If you love the films of Chaplin & Keaton or enjoy films that combine humor with menace, don't miss "The Bicycle".
(feature) The Night of the Hunter (93 mins)
"One of the greatest of all American films. Compelling, frightening and beautiful, combining horror and humor… A film like no other before or since." Roger Ebert, Chicago Sun-Times
Robert Mitchum plays Harry Powell, a charismatic and psychotic preacher who marries and murders widows for their money. Shelley Winters plays Willa, a bank robber's widow destined to be the preacher's next victim. What no one realizes is that only her kids know where their Dad hid the loot. Lillian Gish plays Rachel Cooper, an indomitable welfare worker who can quote scripture just as avidly as the preacher, but whose determination to save the children is just as steely as the preacher's plans to bend them to his will.
"The issues are elemental, the morality biblical, the trials Homeric. In terms of cinematic texture, it's a hound from hell." Michael Atkinson, The Village Voice
Friday, Aug. 31 at 7:30 p.m.
Community United Methodist Sanctuary, 777 Miramontes St., Half Moon Bay (corner of Johnston Street)
More info: www.HMBFilm.org
---