Heavenly Creatures and Heinous Crimes this Friday
Coastside Film Society Screening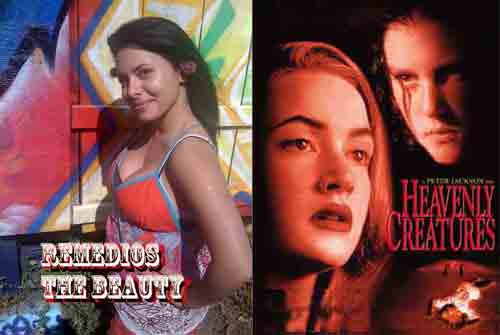 Short: Remedios (8 mins)
A film by Jesse Cobb and friends from Pacifica's Terra Nova High School. The script for Remedios was adapted from Gabriel Garcia Marquez's classic, "100 Years of Solitude". Filmed on location in San Francisco's vibrant Mission District, the film is a magical urban fable about the power of beauty.
Winner of the Coastside Teen Film Festival
Feature: Heavenly Creatures (99 mins)
"For those who think Peter Jackson sprung full blown as the director of "Lord of the Rings," this 1994 spellbinder should come as a revelation." Peter Travers, Rolling Stone
"Heavenly Creatures" tells the true story of two teenage girls who stunned New Zealand when they murdered one of their mothers in 1952. Juliet and Pauline are emotionally unstable outsiders in a Christchurch girls' school. The girls develop an obsessive friendship based on fantasy, which is only heightened when they are separated by their parents. This movie was Kate Winslet's film debut.
"What makes Jackson's film enthralling and frightening is the way it shows these two girls creating an alternative world so safe and attractive they thought it was worth killing for." Roger Ebert, Chicago Sun-Times
Parental warning: This is a film with adult themes.
Friday April 19, 2010 at 8:00 pm
Community United Methodist Church Sanctuary
777 Miramontes (corner of Johnston); Half Moon Bay
$6.00 suggested donation
More info: www.HMBFilm.org
---