Nightmare Grudge Match benefits this year's high school musical, Friday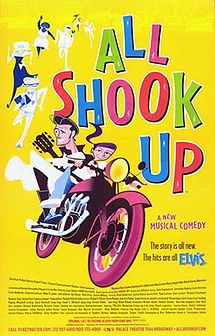 Wikipedia
Which nightmare scares you more?
Nightmare A: You find yourself in front of a large audience. You have no notes. They are expecting you to entertain them. And you're not wearing any pants…
Nightmare B: Some bureaucratic mix-up has sent you back to high school. You're twice as old as all the other students, have no idea where any of the classrooms are, and don't know what you need to do to escape. The lady from the lunch line is giving you the evil eye….
Well, the Blue Blanket Improv troupe will experience both nightmares AT THE SAME TIME on Friday, March 14th at 7:30PM at the Half Moon Bay High School (except the pants part… We will be wearing pants.)
Members of the cast of 'All Shook Up', Half Moon Bay High School's 2014 spring musical, join Blue Blanket Improv for a special one-night-only performance of short-form improvisational comedy. Audience suggestions are incorporated into unexpected comedic scenes made up on the spot.
Fortunately for the BBI improvisers, we'll have our very own high school immersion experts, as more than a dozen members of the HMB High Schools 2014 Spring musical will join us as we create characters and stories, defy the odds, beat the evens, and bet it all on black! They'll provide the jolt we need to make sure you're laughing out loud. And be careful—there may be quizzes! (What's your favorite hobby? Extreme adventure sport? Famous person?) Your answers will fill in the blanks to start our scene!
So come on back to high school! You'll be rolling in the aisles (if you ignore the campus ban on scooters and skateboards) and you'll get to see some of rising young talents in Coastside drama. It's a preview for the main event, "All Shook Up" - March 21, 22, 28, & 29 at 7:30 PM (Fri & Sat) and March 23 & 30 at 2:00 (Sundays).
Tickets are $10 – Bring the whole family since Blue Blanket Improv will match the cost of your admission for the first 50 audience members in support of the 2014 Spring Musical. All proceeds directly benefit the Half Moon Bay High School 2014 Spring Musical 'All Shook Up'
Multi-purpose room at Half Moon Bay High School, Friday, March 14th, 2014: doors open at 6:30pm, show runs 7:00 – 9:00 PM Tickets available at the door or in advance.
---