Open call for artists: Sanchez Art Center's sixth annual 50|50 Show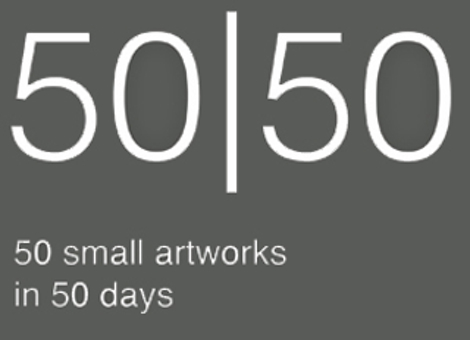 Sanchez Art Center has announced an open call for artists for its sixth annual 50|50 Show, juried by Jack Fischer of Jack Fischer Gallery, San Francisco.
The exhibit takes place August 22 through September 28 of 2014. Entry deadline is Tuesday, May 13, 11 pm PST. Entry is online only [link]. Artists can also download a copy of the prospectus from Coastsider.
Accepted artists will create 50 small works (6" x 6") over the course of 50 days. Each artist chooses a theme for their 50 pieces, and uses from 1 to 3 medium(s) throughout the 50-piece series. Creation of works by participating artists will begin June 9 and end July 28, 2014. The exhibition will run August 22 - September 28, 2013.
Benefits of participating include an intense creative experience; being part of a great exhibition of over 3,000 works and an estimated audience of 1,000 or more viewers; fellowship with other artists; and a spectacular opportunity to make works available for sale to people who might not be able to afford your larger pieces.
Jack Fischer is the founder and curator of the Jack Fischer Gallery in San Francisco, California. After many years at 49 Geary Art Galleries, Fischer relocated in 2013 to the growing art district of Potrero Flats, a new gallery hot spot in San Francisco, where there are now five galleries within two blocks of each other, and where the Jack Fischer Gallery continues to exhibit intriguing work by important California artists. The inaugural exhibit in Fischer's new gallery space showcased work by Ward Schumaker, and was listed among art critic Kenneth Baker's top ten that year. Recent shows include work by Tony Fitzpatrick and Heather Wilcoxon; Ken Graves and Bernardo R. Palau; Kevin B. Chen and Christina Empedocles; and Dan Lydersen.
The mission of Sanchez Art Center is to create community through art. Sanchez Art Center was established in 1996 when artists and community members converted an old school into a multi-use arts complex that now includes 3 galleries, 19 art studios, an arts classroom, and the Mildred Owen Concert Hall. Sanchez Art Center offers exhibitions by established and emerging artists. We make art accessible to people of all ages and backgrounds by offering a variety of free exhibitions and lectures, affordable studio rentals, summer camps for kids, in-school art classes, and community art opportunities.
---