Pirates of Penzance opens March 15 in Pacifica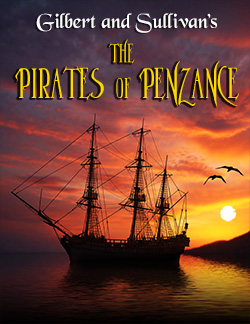 As enjoyable today as it was when it first opened in 1879, The Pirates of Penzance is the comical tale of two young lovers mixed up with a band of tender-hearted pirates, bumbling policemen, an eccentric Major-General and his beautiful daughters - all morally bound by a sense of duty. The enchanting music and witty lyrics of Gilbert and Sullivan's classic score has delighted audiences for over a century… even the revival took New York by storm in 1980, winning 3 Tony Awards and 5 Drama Desk Awards. Come join Frederic and Mabel on their musical journey of love, loyalty, duty and, of most importantly… Pirates!
Fridays: 3/14, 21, 28, 4/4 at 8pm
Saturdays: 3/15, 22, 29, 4/5 at 8pm
Sundays: 3/16, 23, 30, 4/6 at 2pm
Tickets: $30, $25 for Students/Seniors
Box Office: (650) 359-8002
Online: pacificaspindriftplayers.org/
Pacifica Spindrift Players Mainstage Theatre
1050 Crespi Dr, Pacifica, California 94044
Full disclosure: Our son, Alex Ortiz, will be playing the Pirate King.
Cast:
Carmello Tringali - Frederic
Kelly Walker - Mabel
Alex Ortiz - Pirate King
JM Perchalski - Ruth
John Gaunt - Major-General Stanley
John Szabo - Sergeant of Police
Michael Lodick - Samuel
Lisa Claybaugh - Edith
Rachel Lock - Kate
Isabel Schroedel - Isabel
Kathryn Benedicto - Daughter (Mabel u/s)
Adam Claybaugh - Pirate/Police
Cosette Claybaugh - Daughter
Anita FitzGerald - Pirate
John Hanson - Pirate/Police
Nick Louie - Pirate/Police
Katy Ouse - Daughter
Jillian Rogers - Daughter
Sage Russell - Pirate
Storm Russell - Pirate (Major General u/s)
Pete Shearer - Pirate/Police
Michael Sterling - Pirate
Mauricio Suarez - Pirate (Frederic u/s)
Sara Vass - Daughter
Production Team:
Sarah Lodick - Director
Robby Stafford - Music Director
Deirdre Ashby - Choreographer
Jenny Hernandez - Assistant Director
Mae Linh Fatum - Stage Manager
Mike Fatum - Fight Choreographer
Kristen Wadsworth - Costumer
Carson Duper - Lighting Designer
Jared Alexander - Sound Designer
Gary Smith - Set Build
Henry J. Sellenthin - Set Dressing
Gary Pugh-Newman - Producer
---