Seal Adventure fundraiser, Saturday, Jan 28 at Año Nuevo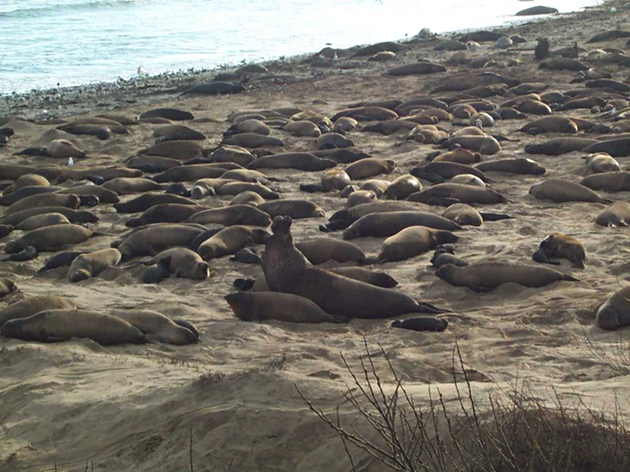 Travel into the sand dunes while thousands of elephant seals are on shore to rest, give birth, and mate at the spectacular Año Nuevo State Park rookery. On Saturday, January 28, 2012, the San Mateo Coast Natural History Association (SMCNHA), and California State Parks will host Seal Adventure Saturday, a special fundraising event to support educational and interpretive programs at Año Nuevo State Park and other state parks along the San Mateo coast.
For one day only, visitors will have extraordinary access to linger for an entire morning or afternoon to view the elephant seals at the peak of the breeding season. This is a rare opportunity, one that can be enjoyed by everyone—from families to avid wildlife photographers. Participants will begin their adventure with a 1 1/2 mile walk over bluff trails and rolling sand dunes to the elephant seal viewing area. On the way they will be able to enjoy views of the ocean and Año Nuevo Island, observe birds and other wildlife, and hear the guttural sound of the elephant seals in the distance.
Arriving at the viewing area, they will have a memorable experience surveying the beach crowded with hundreds and hundreds of elephant seals—the males sparring among themselves and females giving birth and nursing their newly born pups. Volunteer naturalists and park staff will be available to direct you to the best viewing areas, where you can observe the elephant seals for as long as you like during your viewing time period, as well as answer questions about the seals and the park.
Before and after observing the seals, participants can explore historic ranch buildings dating back to the 19th century, visit the Año Nuevo Bookstore and Marine Education Center, and enjoy free refreshments in an old horse barn that now serves as a classroom and meeting area. Tickets for the Seal Adventure may be purchased on line for $50/person at www.smcnha.org. The cost of the tickets is tax deductible to the fullest extent allowed by law, as a donation to SMCNHA—a 501(c)3 nonprofit that supports the state parks along the San Mateo coast. You may select tickets for either the morning (8:30-12:00) or afternoon (1:00-4:30).
---