Visit old China, before It drowns, Friday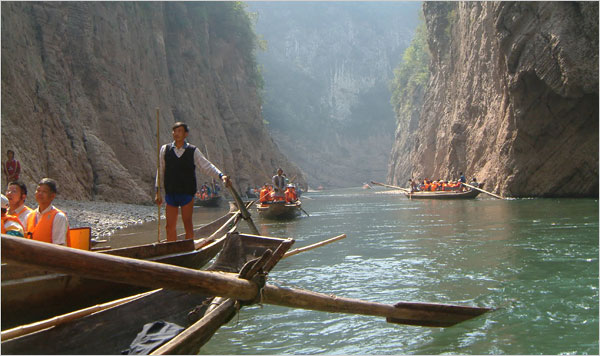 Up the Yangtze
"What Chinese Canadian filmmaker Yung Chang achieves in his documentary "Up the Yangtze" is remarkable. In one sense, he has created an epic - his backdrop is the gargantuan Three Gorges Dam project, the biggest hydro-electric project in the world and China's largest project since the Great Wall. In another sense, he has created an intimate film about two teenagers whose lives will never be the same." G. Allen Johnson, San Francisco Chronicle.
The Three Gorges project is so large it is measurably changing the tilt of the Earth. How best to put such a massive project in context? Chang wisely chooses to take a very narrow focus on the subject. Cindy Yu Shui is a 16-year-old peasant girl whose family is loosing its humble shack to the waters. Jerry Chen Bo Yu is a spoiled 19-year-old boy from a middle-class family. Both have found jobs on cruise ships plying the rising waters for the enjoyment of Western tourists. Though the eyes of these two teens we come to appreciate what those tourists are seeing—and what they are missing.
Jenny Kwok Wah Lau, an Associate Professor in the Department of Cinema at San Francisco State University will introduce the film and take questions from the audience.

Friday, Jan.23 at 7:30 pm

Coastside Film Night is open to the public of all ages.

Methodist Sanctuary, 777 Miramontes, Half Moon Bay
(Corner of Johnston & Miramontes)

$6.00 per person
For more info see: www.HMBFilm.org
---